1. "In This House"
Premiered June 2023 as part of the 2023 Beltline After Dark Festival. Support for this work was provided by Art On The Beltline and was created as part of my participation in the Meli Kaye Artist Residency at Decatur School of Ballet.
"In This House" is loosely inspired by Ibsen's play, "A Doll's House" and explores themes of family structures, gender roles and materialism through a queer lens. This piece features choreography by Meaghan Novoa in collaboration with dancers Charray Helton, Aryanna Allen, Charlie Baker, Emily Davis, Jenna Lathan and Kris Wells and also features original music composition by Dan Carey Bailey and video art projection by Sean Dahlman.
2: "Momentary Impulse"
Choreographed for Fall For Fall Dance Festival, October 2022

Also presented at the 2023 Modern Atlanta Dance Festival
Performed by Angelita Itzanami & Arneshuia Nelson at Fall for Fall Festival
Performed by Angelita Itzanami & Jenna Latham at MAD Festival
Music by Robert Een
Inspired by the concept of "muse" this dance work takes inspiration from some of Meaghan's favorite neo-classical, heteronormative duets in ballet and contemporary dance as well as their past duet work and reimagines the traditional pas de deux through a queer lens.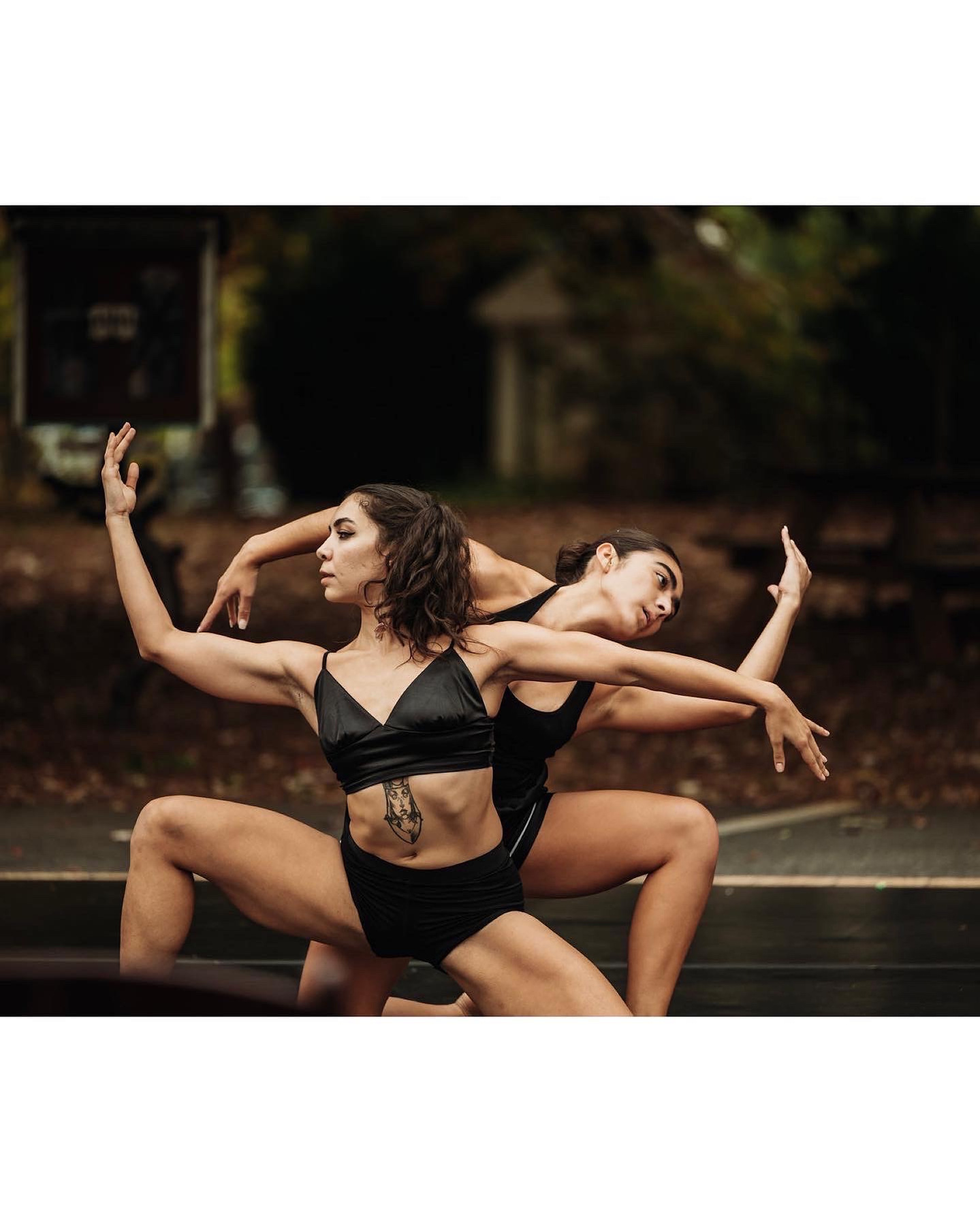 3: "Interfacing"
Created for Dance Canvas/Atlanta Contemporary's Summer Choreographic Residency September 2022
Support for the development of Inter(facing) was provided by Dance Canvas and Atlanta Contemporary.
Performed by Erin Burch, Charray Helton, Jenna Latham and Arneshuia Nelson
Music by Michael Wall & H Hunt
Photos by Angela Harris, courtesy of Dance Canvas, Inc./Atlanta Contemporary 2022

This dance work is inspired by my personal experiences as a neurodivergent person, specifically how this relates to my interpersonal relationships.
4. "Ineffable Freedoms"
Premiered March 2023 as part of Dance ATL's A.M collab program. "Ineffable Freedoms," a multimedia collaboration, including visual art installation, video art projection, 3D and 2D printed art by Darya Fard, original music by Ehsan Gooniaei and Darya Fard and contemporary dance choreography by Meaghan Novoa, performed by Erin Burch. This work was created in response to the ongoing revolution in Iran.
5: "Wait, just a moment"
Premiered April 2022, at Boise State University, commissioned by Idaho Dance Theatre. Also presented at the 2022 Modern Atlanta Dance Festival at Emory University.
Original cast:
Anna Adaska, Lacey Bernhardt, Kali Dey, Yurek Hansen, Lemuel Reagan, Kylie Rodgers, Libby Schmoeger
MAD fest cast:
Malachi Aldridge, Erin Burch, Charray Helton, T'Shauna Henry, Jenna Latham, Meredith Read, Megan Tames
This dance work was created in tribute to a close friend and in homage to those struggling with depression and anxiety.